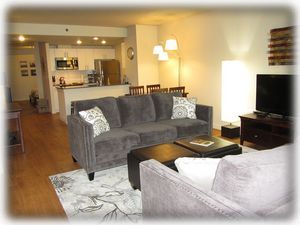 "Had a wonderful stay in Seattle." - Susan W., 12/16/2019 (VRBO Review)
"It was very clean and perfect for 5 of us. Lots of room, tons of towels for us to use and 2 bathrooms. We were doing a Mother and Daughter weekend. So close to everything it was perfect! Property Manager was quick to answer with all of my questions. I wish all places were this great! My only complaint was that there needs to be a couple luggage racks in each room as we had to put it all on the floor, which at my age is hard to access and breaks the back lol" - laurie b., 10/17/2019 (VRBO Review)
"We went to Seattle for the Saints-Seattle football game. As impressed as we were with the apartment online, seeing it in person was even more impressive. We had everything we needed in there and more. The space in the apartment was large and very accommodating. I cannot stress the excellence of the location. Everything was in walking range! Debra was a wonderful hostess, answering all my questions prior to the trip and remaining available to us during our stay in Seattle. I highly recommend staying here and renting from Debra/Picture Properties. You won't be disappointed." - Gina J., 10/12/2019 (VRBO Review)
"Great location in downtown Seattle, next to Pike Place Market and many attractions nearby. Great space and amenities." - Greg C., 10/01/2019 (VRBO Review)
"The unit was exactly as described in the listing and we had a wonderful stay. The location was perfect for us to easily access the sites of Seattle. The only thing we might suggest is increased lighting as the main living space of the unit was very dark even with all of the lights and/or lamps turned on. I would definitely stay recommend staying here if you want easy access to downtown Seattle attractions." - Hayley M., 09/26/2019 (VRBO Review)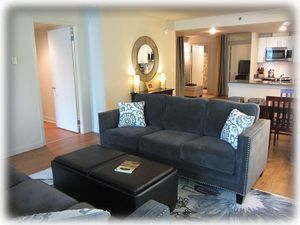 "Great location. Comfortable accommodations. Debra was a responsive host." - Anonymous, Ashland, OR, 08/23/2019 (VRBO Review)
"Perfect location, great place, easy process!" - Tim S., 07/29/2019 (VRBO Review)
"Great choice for our stay with three teen grandkids. Close to everything - Pike Place Market, Monorail, Waterfront and Art Museum, etc. Super fast check in. Very noisy in evenings - traffic and sirens - since unit has no AC, had to have door and windows open. Close to Target and small deli for groceries. Loved the Noi Thai restaurant by entrance." - Karan F., Angola, 07/09/2019 (VRBO Review)
"Clean, easy checkin and out - exactly what they advertised." - Julie B., 06/03/2019 (VRBO Review)
"Great place and perfectly located." - Joanna R., 03/26/2019 (VRBO Review)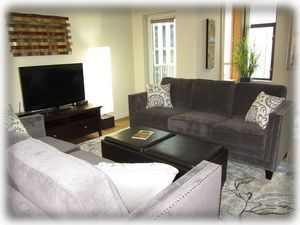 "The manager of this apartment is a lifesaver. The day before we left for Seattle for a week of business meetings, the VRBO Homeaway landlords - who we had booked with months before - canceled on us. VRBO had a hard time finding us alternative lodging at such short notice... but then the manager of this unit stepped up. What a relief !!! The apartment is very nice, comfortable furnishings. And you could not get a better location." - Zoe L., 12/31/2018 (VRBO Review)
"This is the perfect place to stay for a visit to Seattle. You can walk to everything and you have a well appointed, comfy place to return to." - Tara N., 12/19/2018 (VRBO Review)
"We loved this place and would stay again in a heartbeat! Great location just a few blocks from the Pike Place Market, beautiful view, spacious and gracious apartment with attention to every little detail! We will be back next year!!" - Anonymous, 11/11/2018 (VRBO Review)
"We enjoyed staying at this property the end of August while we were visiting friends in Seattle. We did not have a vehicle and were two adults traveling with five children. Ease of access to Pike's Place Market, Starbucks at street level and access to ferry to Bainbridge Island all made this a very worthwhile accommodation. I especially appreciated the ability to check out late as our flight wasn't until 5:30pm. It allowed us to have a pretty full day of sightseeing still on our travel day. Very nicely appointed place, free wifi, movie channels were greatly appreciated." - Jolene B., 10/08/2018 (VRBO Review)
"The property owner was excellent - very accommodating and sent very clear and easy to follow instructions. In our opinion the best feature was the location - being 2 blocks from Pike's Market was fantastic. We walked and bought fresh ingredients from the market for every meal, a very memorable experience. Two fitness centers were also very convenient. A 5star experience, would highly recommend." - Michael L., 09/12/2018 (VRBO Review)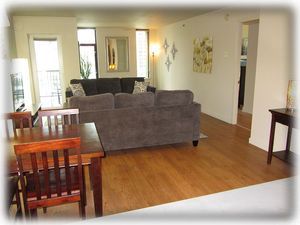 "Walked to all the attractions , plenty of room 5 adults. Recommend!" - Lynn F., 09/03/2018 (VRBO Review)
"Very nice condo clean and a fantastic location with great amenities." - Marilyn M., 09/01/2018 (VRBO Review)
"We totally enjoyed this rental! The condo was very clean and well equipped. The building couldn't have been in a better place for enjoying the wonders of Seattle. We will be back!!" - Jill S., Washington State, 08/17/2018 (VRBO Review)
"Comfortable apartment for our family. Great location close to Pikes Market. Some noise due to construction but was finished early in day." - Lisa M., 07/24/2018 (VRBO Review)
"Great location! Able to walk everywhere. Nice and clean. Plenty of room" - Wendy L., Vermont, 07/05/2018 (VRBO Review)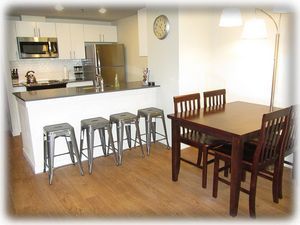 "Four of us enjoyed this property very much. Location is right downtown, although the noise level in the Master BR was a bit more than we had hoped. Traffic noise and construction right across the street. Bedrooms were comfy and the bathrooms were spacious. We would stay here again!" - Holly B., 06/28/2018 (VRBO Review)
"Fun times" - Erin C., 06/19/2018 (VRBO Review)
"Would like to come again." - Anne E., Knoxville, TN & Troy, AL, 06/13/2018 (VRBO Review)
"This apartment had the BEST location!! We walked everywhere and the places we couldn't walk to - the light rail was 1 block away and the monorail about 5 blocks away!! The apartment was clean and nicely decorated. We would definitely stay here again!!" - Laurie M., 06/08/2018 (VRBO Review)
"Very pleased with our stay. The property manager was very helpful when we had a question. The unit was big, clean and comforable. The location was two blocks from the pier and restaurants, and two blocks from Pikes Place Market." - Steven J., 05/04/2018 (VRBO Review)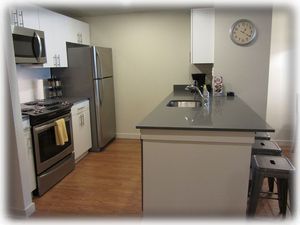 "First of all, I have to thank Debra, she was very professional and prompt to answer my questions, the place was really nice on the inside and the best part was the location, it was for real just a block away from pier 57 and Pike market, no need to use the car during our stay, thank you!!!" - Julio R., 05/04/2018 (VRBO Review)
"Very clean and close to everything, so no need to rent a car. Public transportation is close by and easy to use. The apartment is layed out very nice. Front desk was very helpful when we arrived and very easy to check in and out." - Teri M., Eagan, MN, 04/16/2018 (VRBO Review)
"Clean great centralized 2 bedroom 2 bathroom apartment with extra sleeping space. Tons of amenities that we enjoyed. Great restaurants near by, can recommend Vons hamburger, it was delicious. Only negative I can think of is the lighting can be pretty dim in the apartment at night. I believe this is due to the types of lightbulbs used in the unit. Otherwise a great place to stay." - Jessica D., 03/20/2018 (VRBO Review)
"Very easy walk to shopping, dinning, Pike Place Market, bars. Cab or walk anywhere. Spacious accommodations for 4." - Lisa L., 03/13/2018 (VRBO Review)
"This condo has the best location in Seattle. I would certainly like to stay here again" - diane p., 01/06/2018 (VRBO Review)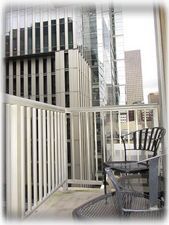 "Place is larger than it looks in pictures. Corner unit, so reasonably easy to accommodate a group of 30-40 year olds that make a bit of noise. Very comfortable. Only note is that dining room table only seats 4 when place sleeps 6 easily. Could use a bigger table. Minor nit." - Nora R., 12/15/2017 (VRBO Review)
Glad another Picture Properties guest had a great stay! There isn't much room for a larger table, but adjacent to the table is the breakfast bar with 4 stools (so we seat 8 for meals). Thanks! Debra, Picture Properties
"The location is ideal! We parked the car and walked all over downtown Seattle. Wonderful weekend..." - Teresa I., 11/28/2017 (VRBO Review)
"This place has a great location, downtown and only steps to Pike Place. Many amenities and close to a lot of restaurants and shopping." - David P., 11/09/2017 (VRBO Review)
"We were able to walk almost wherever we wanted to go, and it took just a few minutes. The apartment was more spacious than we thought it would be for a city apartment. Big bathrooms too. Would stay here again." - Amy C., Dallas, TX, 10/24/2017 (VRBO Review)
"Great location next to Pikes place, close to everything. Apartments are nice, clean and safe. I'd highly recommend to anyone visiting Seattle." - John B., Chattanooga , 10/20/2017 (VRBO Review)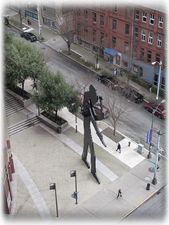 "Enjoyed the location in the heart of Pike's Place. Great restaurants all within walking distance. Plenty of room to spread out and beds were comfy. Great place to stay! Very neat and clean. Directions to get to and into the apartment were clear. No noise from neighbors. Extra \" - Brigid S., 09/21/2017 (VRBO Review)
"Great property for a large family. Perfect location next to Pike's Market." - Tracy W., 08/28/2017 (VRBO Review)
"Comfortable, clean, well stocked. The kids loved access to the pools and basketball courts. The gym was nice too. Location was perfect for anything we wanted to do in the area. Easy check in and out. Couldn't ask for a better place in which to enjoy Seattle!" - Denise L., Fort Myers Florida, 08/25/2017 (VRBO Review)
"We came for Bite of Seattle and wanted a nice, comfortable and quiet place to digest for the evenings! This place fit the bill! The moment we opened the door we knew we had chosen wisely! It was bright and open, immaculately clean and complete with coffee! We lack for no amenities! Debra was fabulous! She was very helpful, this being our first vacation rental outside of Motels, and graciously arranged for a last minute parking pass. Thanks Debra! We will definitely book again through Picture Properties!" - Jerry H., 08/21/2017 (VRBO Review)
"We enjoyed our stay. The staff was warm and friendly. The apartment large and roomy, clean and we felt comfortable. Just need some much better pillows for the beds." - Kelly R., San Francisco, California, 07/23/2017 (VRBO Review)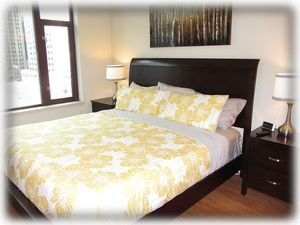 "Location was excellent with easy walking distance to many attractions and restaurants. I had forgotten that Seattle was so hilly, so having a place on 1st Avenue saved us a lot of hill climbing. Our 12 year old granddaughter was quick to claim the daybed area and she loved her own space separate from her 15 year old brother. Apartment was clean, well maintained and comfortable. While we did minimal cooking, kitchen had all the essentials. Paper products throughout were nice quality. Towels and linens were in excellent condition. Nice little balcony (2 people) looking down on Seattle Art Museum's Hammer Man. Property manager, Debra communicated frequently before our stay and supplied detailed instructions on check in process and even great directions on how to navigate the underground parking garage (extra cost but worth it if you have a car). She made everything stress free. Note that the pool is in a different building of the 4 towers that make up the Harbor Steps complex so access was either by a quick walk outside or through the parking garage. Kids were a bit disappointed that it was only 4 foot deep, so more a lap pool than for active play, but hardly an issue." - Jane C., Massachusetts / USA, 07/21/2017 (VRBO Review)
"Absolutely great location for doing things downtown Seattle. Spacious facility, we fit six in but it would accommodate five much better. Detailed, but confusing, parking instructions. A bit convoluted check-in, parking, accessing the room instructions...but once you are there it was everything we hoped it would be. Finding our way around after getting our bearings was easy and convenient. Highly recommended when location is your major priority!!" - Dave S., 07/15/2017 (VRBO Review)
Just thought we would comment that most people thank us for very specific and detailed arrival info - you'll see it mentioned often in our reviews for all our Harbor Steps apartments. It helps to review the info before your arrival (we send it about a week ahead of time). We also have helpful 24 hour concierge there to assist you! Thanks! Debra, Picture Properties
"Great location to enjoy downtown Seattle. Very easy to get around. Our apartment was very clean and accommodation were excellent. We would stay here again and also recommend to friends and family." - kathy d., 06/27/2017 (VRBO Review)
"Thank you for a great experience, making our mini vacation a pleasurable stay. Attention to small details were awesome. Picture Properties and VRBO will be my future recommendations." - Sean K., 06/26/2017 (VRBO Review)
"Everything was a positive! Nice size condo that was well appointed. The owner has thought of everything a traveler or visitor might need - from coffee, filters and spices in the kitchen to laundry supplies and shampoo and conditioner. Nice linens and comfortable beds. Also can not say enough nice things about the staff at the Harbor Steps concierge desk. We were stopping in Seattle after a cruise and had 6 adults with a HUGE amount of luggage. When we arrived early they helped us place our things in a large storage area and then provided a couple of carts to help transport everything when we were ready to go to the apartment later. Short walk to Pike's Market and there is a Target 2 blocks away." - Anonymous, 06/23/2017 (VRBO Review)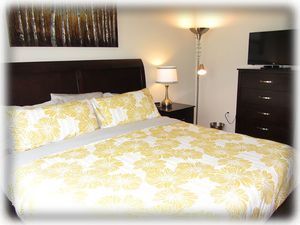 "No complaints about the home. Absolutely perfect location. Plenty of room. Clean. Definitely look forward to my return trips to Seattle and staying here. Concierge need a bit more assistance in mannerisms. Watch your closing statement, hidden charges." - Melanie B., 06/18/2017 (VRBO Review)
We were very concerned about the \
"Harbor Steps is a great location. Walkable to Pike Place, Downtown and Pioneer Square areas. The apartment was just as advertised. Clean. Modern. Good amenities. Parking was good although the garage is a little tight for larger vehicles. Good instructions provided regarding arrival and access. Would definitely recommend and stay there again. Thanks." - TomG, Milwaukee, 06/08/2017 (VRBO Review)
"The owner made everything perfect that was not initially right. She went out of her way to ensure our satisfaction and best Seattle vacation ever. Best location downtown, period!" - Michael D., 06/02/2017 (VRBO Review)
"The apartment was beautiful and the location was great. Our only complaint was the unit was very dark inside. Could use better lighting." - Theresa B., Oakhurst , 05/29/2017 (VRBO Review)
Glad this guest enjoyed their time. It's not a corner unit and there isn't much in the way of ceiling lighting. We do have 8 lamps/bulbs in the living and dining area, so if they are all being used, it's plenty bright. We do have other brighter corner units, but they are not as large as this one.
"Great location to market, shopping and restaurants. Condo has everything needed, so just walk in with your clothes. Check in easy and Debra made our stay so comfortable." - Claudia C., Saint Johns, 05/24/2017 (VRBO Review)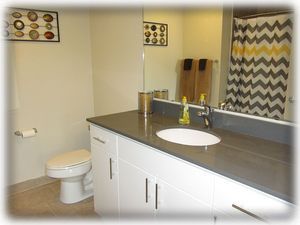 "This property is centrally located near Pikes Place Market, Pioneer Square and the wharf. Everything is within walking distance (within 2 miles), including the Space Needle, the shopping district, the theater district, amongst other entertainment venues (all of these areas include top rated restaurants). Once you are settled into this apartment it simply becomes about planning your day(s). Being in the city also allows for quick access to other transportation if you don't want to attempt to drive out to the wine district, but access to the highway system is easily achieved from the parking garage. The apartment was lovely as well. The furniture looks new, and the beds were comfortable. We filled the apartment to the brim with 8 women/girls and we were able to all get ready within 1.5 hrs start to finish and out the door in the mornings. Having two bathrooms was very helpful, as well as plenty of rooms for privacy to dress. There were plenty of dishes, pots and pans, utensils, and glasses. Clean up was easy as there was a full size dishwasher with dishwasher soap. The apartment had shampoo, conditioner, bath soap, towels and washrags aplenty, as well as a washer and dryer. I will definitely look into renting this apartment again if I am in Seattle for a long weekend. If you desire a full Sound view then this apartment will not provide that. There is a Sound view from the back bedroom and a partial view from the balcony. This apartment has a great city view, but the Sound is only about two blocks away. And if I can include this, Wings over Washington is a fabulous ride." - Heidi M., Gallatin, TN USA, 04/21/2017 (VRBO Review)
So glad it was a great experience for you. Our pleasure having you as guests. Thanks! Debra, Picture Properties
"The apartment was perfect for our family and is in an ideal location. The owner provided very detailed instructions which were extremely helpful and was very responsive when I had questions. Excellent experience!" - Carla W., 04/18/2017 (VRBO Review)
"This place was exactly as advertised. Debra was very thorough and available (we never needed her but she did reply to texts very quickly to just answer some simple questions for us). This location is fantastic. Literally just two short blocks away from the Market. We brought our six kids with us (ages 19-11), we did not rent a car, scheduled a long weekend (Thursday evening through Monday morning), walked everywhere...had a blast. Pretty cool to see all the kids, yes even the teenagers, up by 7 a.m. to head over to the original Starbucks to start each day. We walked down to the pier, took a ferry, ate all over the place, bought food at the market, cooked in the condo...awesome. The kids loved the gym, the indoor basketball court, the pool, the hottubs, the sauna. We would definitely come back." - Kelly O., 04/06/2017 (VRBO Review)
"Walking distance to Pike Place Market, great restaurants, etc. Check in was easy and we were able to leave our luggage in a secure room until check in time. Debra of Picture Properties was very helpful and easy to communicate with by phone and email. We really enjoyed this beautiful apt and had a very comfortable stay. Beds were comfy, great showers, kitchen well equipped, lots of extra blankets. One adult daughter took the 2nd bedroom and the other loved the daybed with a private curtain, found it very cozy. A great value and we would definitely return!" - Debra B., 03/23/2017 (VRBO Review)
"I've stayed with VRBO many times, and this has been one of the better experiences I've had. It was very easy to communicate with the management company, and there were no problems with the reservation process. The apartment itself was exactly like the photos, everything was very clean, the kitchen was modern and well equipped, and it was more than enough room for four of us. The location could not have been better. We were a five minute walk to Pikes Place Market and close to everywhere we wanted to go. Just a perfect city location for sightseeing. Was a bit noisy at night from the street below, but not enough to take away from the overall advantages of being close to everything. I will definitely stay here again!!" - Renee D., 03/21/2017 (VRBO Review)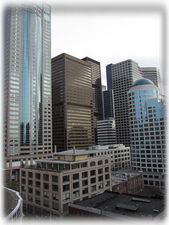 "We got this flat in downtown Seattle on one day's notice. Management bent over backwards to make it work. Can't wait to return." - Quentin R., Missoula, Montana, 03/21/2017 (VRBO Review)
"Need to update sheets and especially towels." - james w., 02/16/2017 (VRBO Review)
We were surprised to hear about updating sheets, because they are relatively new. We have not had this comment from any other guest (in a review or otherwise). On the contrary, we get a lot of compliments on our linens. We'll check to see if any towels need replacing, but again, also not a comment we have received in reviews or emails. Let us know if you have any questions please. Thanks! Debra, Picture Properties
"Perfect location across from museum, around the block from symphony, 2 blocks from Pike's Market, walking distance to Ferris Wheel and Aquarium. Apt had all the amenities you could ask for and then some. Beautiful furnishings and layout. I would come back in a heartbeat. As I mentioned before this is perfect for 2 couples and a child/children for the pull out or an additional couple who didn't mind a aerobed queen bed in the joint living space. Again, we plan to return to this location sometime in the future." - Barbara C., 01/24/2017 (VRBO Review)
"Great location. Spacious apartment. Very comfortable" - Helen G., 01/21/2017 (VRBO Review)
"Spent 3 nights at this 2 bedroom condominium over the holidays. It satisfied all of our needs. Well appointed, clean, instant very hot water for washing/showers, well stocked in the kitchen, bathrooms, and for cleaning supplies. Located within walking distance to many restaurants, shops, and sporting events. Directions from Debra were concise and understandable, even the parking garage labyrinth became understandable after awhile. Would highly recommend this property for anyone wishing to experience a central location for a Seattle visit." - WENDY O., -, 01/14/2017 (VRBO Review)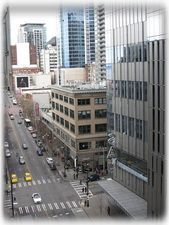 "My family and I enjoyed our stay. We loved being in the heart of downtown Seattle where we could walk to the Seahawks Game, the market, harbor, restaurants, etc. The apartment was very clean and comfortable. Looking forward to staying here again." - Radene W., Wenatchee, WA, 12/14/2016 (VRBO Review)
"This is about as perfect of a location as you will get in Seattle. Walking distance to the stadium, downtown and Pike's Place. The condo is very large and clean and the building amenities are a nice addition. Perfect for a family or large group." - Carolyn Y., 12/12/2016 (VRBO Review)
"This is the perfect place to stay for all downtown Seattle activities, especially for a family (we are a family of 4 and had tons of room). Right out the door is easy walking access to Pike Place Market, water-front sites/activities & ferries, Seattle Aquarium, Space Needle, multiple museums and shopping... and of course TONS of restaurants and pubs. Just a short walk to century link stadium! Most stuff is literally a few blocks away. The apartment itself is huge for downtown! Tons of space, separate large bedrooms and spacious full bathrooms. This rental is also super clean - everything just feels good. The kitchen, bathrooms, common areas and especially the bedrooms & linens. Feels like home. If you do have a car, the parking is well worth it and provides nice underground parking with easy in/out access. We did a couple things out of downtown - so had a car. But next time could easily skip it if staying here. The view is great - 14th floor view of downtown 1st Ave. Pretty cool! We are already looking forward to our next trip to Seattle and would definitely stay here again!" - Dan I., 11/20/2016 (VRBO Review)
"I stayed at this Picture Properties apartment with my wife, parents and younger brother. There was enough room for all of us to have the space that we needed to be comfortable. The kitchen was very well equipped and allowed us to make and enjoy (Canadian) Thanksgiving dinner while visiting in Seattle. All of us noted how clean the apartment was. The location was great and gave us easy access to all of the sites and restaurants we wanted to check out. Easy check in and check out experience, and Debra from Picture Properties was very helpful. Last thing - for those travelling with kids we noticed that the apartment had a pack-and-play, kids life jackets for the pool and kid-friendly dishes. We really enjoyed the place and would recommend it to anyone." - Mark D., 10/28/2016 (VRBO Review)
"We had a great time! We walked to almost everything we wanted to do! Easy check in and felt safe. Would stay here again if we revisited." - Joan E., Spirit Lake, Iowa, 10/17/2016 (VRBO Review)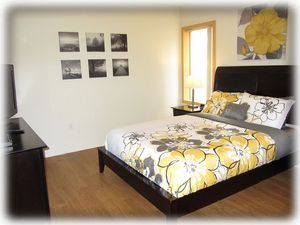 "We stayed in this location for 5 nights on a recent trip to Seattle. It truly is in a great location, but we were most impressed with how well the unit has thought of everything you need. We were traveling with a small child and were thrilled to find a small booster seat for feeding, a pack and play and even a life jacket to let our 3 year old enjoy the pool safely. Every time we went to the pool we had it to ourselves and never heard anything from the tenants around us. The unit was very clean and completely ready for us when we arrived. We did get in super early (getting off a cruise ship) but they held our luggage for us without any issues until check-in time. Would gladly stay here again if our travels ever bring us back to area." - Jenny M., 10/04/2016 (VRBO Review)
"This property was exactly as described. The location is excellent!!! We were in town for 2 ball games but also had time to do the Big Wheel & shop @ Pike Place Market. If I had one recommendation, the small washer/dryer unit could be a little bigger to handle a regular load of towels or sheets. Debra was terrific to deal with & we will probably stay here again next year. Thank you." - SHARLENE M., 09/27/2016 (VRBO Review)
"We had a great stay at this apartment while in Seattle from Sep 20th-22nd. Pro's: - Excellent location d/t close to shopping, Pike Place Market, the Waterfront, Pioneer Square etc. - Convenient, quick check-in, zero hassle, literally went to front desk and keys/fobs were provided immediately - Property is nice, has full amenities and comfortably accommodated our party of 4 adults - Price for Seattle was reasonable, compared to the insane hotel prices downtown there was value in going the VRBO route. For larger groups this is definitely something every group should look into as an alternative to hotels. - Picture Properties (Debra specifically) were very professional and easy to deal with. Con: - Only con I can think of was not Picture Properties or property specific related, it was the concierge at the front desk at check-out. They were very polite and professional, but when leaving our luggage in storage for the day they did not tag our bags or give us anything to authenticate our bags were our bags. Nothing went missing but we could have easily taken someone else's bags (or vice versa) as a result of there being no checks and balances in place to prevent this from happening. This would be a logical (and simple) opportunity for improvement for them to build into their process to ensure no customer bags in storage ever go missing. Overall, great stay while in Seattle and I would recommend this property to any mid-larger sized group looking for a centrally located property downtown with great access to all the tourist things to do in Seattle." - Paul K., 09/27/2016 (VRBO Review)
"My girlfriends and I thoroughly enjoyed our stay in Seattle. What a great city with so much to do and see. This property is perfect. It has a great location. We took the light rail from the airport and walked right to the condo (about a block). It could not have been easier. We did not have a car and we were able to walk to all the attractions that we wanted to see. We wanted for nothing in the condo. They even had a vase to put our fresh flower from the market in. It was so comfortable and well decorated. A perfect home away from home. If we ever visit Seattle again I would have no reservation about staying here. Thanks for sharing your beautiful home with us!" - Sara M., 08/24/2016 (VRBO Review)
"Check in and out was a breeze, apartment was clean, well equipped, and very spacious. I can't say enough about the ideal location. It was very nice to be able to walk to pike place in the morning, pick up some breakfast and bring it back and eat it on the balcony." - Dawson H., 08/11/2016 (VRBO Review)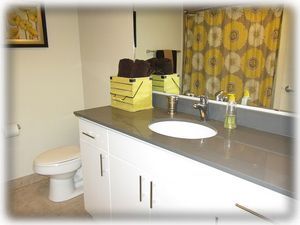 "We really enjoyed our stay here in Seattle! There were seven of us with mostly teens and pre-teens and I wasn't sure how the sleeping arrangements would work but everyone was very happy. The location is amazing! No need for renting a car as most everything is within walking distance. Debra, the property manager, was very accommodating and extremely wonderful to work with! It was a great experience!" - Debbie O., 07/25/2016 (VRBO Review)
"It was clean and comfortable. I would stay there again." - Jim B., 07/21/2016 (VRBO Review)
"Well maintained, well appointed, clean and spacious apartment in an absolutely perfect location in downtown Seattle. Most of Seattle city centre is walkable from this location without the need of a car or public transportation. We are a young family of four and we're able to walk everywhere I'm city centre." - Robin F., 07/19/2016 (VRBO Review)
"We had a great time during our long weekend in Seattle at the Harbor Steps apartments. The downtown location provides easy access to all of the attractions, restaurants, the market and shopping. The apartment space itself was clean, well appointed and provided everything we needed for our family's comfort. The management company was easy to work with and immediately rectified just one small cliche in our parking. My son was graduating from his medical residency during the weekend and due to the moving truck schedule we needed a place for four adults, a toddler and baby. This space was perfect. Allowing for comfortable relaxation for all. Just a notation, I had read a review that the building elevators were \" - Deborah P., 06/30/2016 (VRBO Review)
"Overall, we were happy with our stay here. For the price, I expected a bit more but the location can't be beat. The PROS...location (as already stated), the owner was very polite and helpful, the beds were comfortable, the trundle in the \" - CK R., 06/24/2016 (VRBO Review)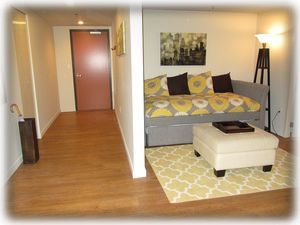 "Everything was great about the property. Everything was very close. Checking in and checking out was easy. All amenities were fantastic. Only problem I had was I only got one set of keys during checking in." - Felipe R., 06/23/2016 (VRBO Review)
There are definitely 2 sets of keys, so that was an oversight on Harbor Steps part - sorry! Had this guest contacted us, we could have remedied the situation immediately, of course. Let us know if you have any questions. Thanks! Debra, Picture Properties
"Fantastic location! Secure building. Very clean, comfortable, and tastefully decorated. The owner was very responsive to questions before the stay and throughout. This was perfect for my family gathering!" - Karen H., 06/16/2016 (VRBO Review)
"Our family of four loved our stay here. The property manager, Debra, gave us all the information we needed prior to arriving and was easy to work with. The apartment is spacious, clean, and very comfortable. My kids enjoyed the loft bed so they did not have to share a room. The kitchen was well equipped for anything we needed. The Harbor Steps are so close to everything that we walked everywhere. Space Needle is only 1.3 miles away and everything else was within that radius. Lots of great restaurants close by and of course Pikes Market is a few blocks away. We were so happy not to drive around Seattle and to stay in such a great place." - Lisa A., Mansfield, TX, 06/14/2016 (VRBO Review)
"Wonderful condo in a really central location stocked with everything you would need !" - Todd & Lisa F., Anchorage, 05/19/2016 (VRBO Review)
"My four sisters and I had a great Experience with Picture Properties. Our two bedroom unit in the Harbor Steps complex was amazing. The bedrooms were a great size. There was also a twin bed with a trundle and an air mattress thet we're very comfortable. The unit was very roomy, clean and well appointed with everything we needed. The location was hard to beat being blocks from everything you would want to do in Seattle. We would rent it again in a heartbeat!!!" - Fiona H., 04/27/2016 (VRBO Review)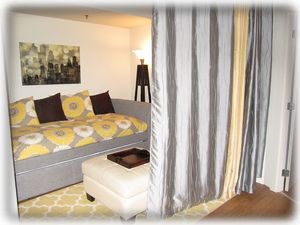 "Excellent customer service from the property management company, Pictures Properties. Very responsive and accommodating to our needs. The unit was clean and furnishings were up to date and modern. Love how we were able to walk to all the places we visited and to eat. I would reccomend for your stay in Seattle!" - Melinda H., 04/14/2016 (VRBO Review)
"Loved staying here for a weekend getaway! It is bigger than my house and better furnishings! Super clean, lots of space and very comfortable as we made ourselves feel right at home! Great customer service from Debra @ Picture Properties as she made sure our visit was perfect! We will book again very soon!" - Kristen M., Renton, WA, 04/13/2016 (VRBO Review)
"Excellent place to stay if you want quiet in the heart of the city. There is lots to do within walking distance. which we wanted. We needed two bedrooms and two bathrooms and this apartment provided that, plus a lot of extras like spa and fitness center and pool and so on that we never used. Given all those amenities, the price is probably fair, though for our needs it was somewhat pricey. There is nothing special about the apartment itself, other than it is extremely quiet. The view would be better if the windows were bigger, the balcony is minimal, and the decor is strictly IKEA. We could never get the TV to operate properly and would have preferred a fireplace. From emails to check out to town car, the service provided was superb, though we found--upon leaving--a load of towels in the dryer, which meant we couldn't get a second load of towels or bedding into the washer as requested. Would I stay here again? Given the right circumstances, yes." - Michele D., 04/11/2016 (VRBO Review)
So sorry to get a 3-star review due to what sounds like the rate. They actually paid our lowest price we offer throughout the year, and much less than our neighboring hotels, for almost 4 times the space, 2 bedrooms, 2 bathrooms, and a full kitchen. Incidentally, we do not prefer to shop at Ikea, and that is not where we get our furniture/decor. We don't advertise any exceptional views here, but it's wonderful for larger groups (with the additional sleeping den), or groups that just want more space. We do have units at Harbor Steps with wonderful views though - both water and city views. Sounds like they would have been more happy with VRBO #443070 or 464379. Most downtown high rises don't offer fireplaces - this unit is on the 14th floor. And it was nice of them to try to start another load of laundry, but that is something we don't require our guests to do - our housekeeping team can handle that. Please don't hesitate to contact us with any questions. Our photos are very accurate too - so check it out! Thanks! Debra, Picture Properties
"We had a great time staying at harbor steps! The location was perfect, just in the heart of downtown and walking distance to many of the sights. The apartment was clean and cozy. Everything we needed was provided. We definitely stay here again!" - Chelsea S., 01/14/2016 (VRBO Review)
"The apartment was beautiful, gorgeous views, close to everything in downtown Seattle, supplied everything we needed including hair and body products and laundry detergent. My husband and I, my parents and our adult son stayed here for 3 nights for my nephew's wedding. We were all very comfortable. We were even able to reserve free of charge the party room in the complex for my family's New Year's Eve gathering, such a bonus. We paid ($20 a day, so much cheaper than anywhere else) to park our rental car downstairs in the parking garage and every time we came in we were able to park right near the elevator. Only hiccup we had was when we were trying to exit the parking garage at 3:45 AM to catch our plane and the parking attendant was taking a break and we couldn't get out. 15 minutes later than planned, we were on our way. I definitely recommend this place to all ages. It is completely set up for families, even those with small children. The location is right across the street from the Great Wheel and ferry boat launches and just a short walk down to the Pikes Place Market.I have lived in and visited many cities in both the US and Europe but now Seattle is my favorite!" - Deborah J., 01/09/2016 (VRBO Review)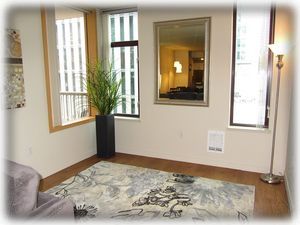 "This unit is exactly as pictured in the listings. It worked out great for our family with 2 college aged boys in the second bedroom. The apartment was next to everything and still very quiet. We used the light rail from the airport which was inexpensive and convenient. We would stay at Harbor Steps again on our next trip to Seattle." - Leisa G., 12/05/2015 (VRBO Review)
"Great condo location! Awesome view, bed, loved everything!" - Anonymous, 11/28/2015 (VRBO Review)
"This property and location were great and \" - Zachary K., 11/24/2015 (VRBO Review)
"We enjoyed staying at this apartment while meeting up with my mother for a family weekend in Seattle. The building is in a great central location with convenient access to the water front, the museum, and the market and was just a few blocks away from the University Street station making for easy transportation to and from the airport. The bedrooms were both good sized and the kitchen had everything we needed." - Lea F., Alaska, 10/30/2015 (VRBO Review)
"Our Girl's Getaway trip to Seattle was everything we'd hoped it would be! The Harbor Steps is perfectly located where we could walk to most everything we wanted so we were able to pop in and drop off shopping bags or take breaks throughout our busy day. Other sites were a quick Uber ride away and there were always several cars available within minutes. The condo was lovely! Very comfortable for the 4 of us, and well stocked with all the items we needed. Check in and out was a breeze and the staff there was friendly and helpful. Definitely would recommend this place!" - Kathy B., 10/15/2015 (VRBO Review)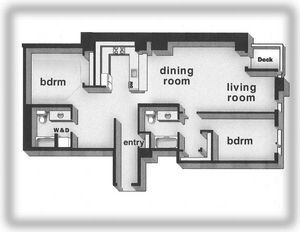 "Great location. We walked to all the sites. Fun three days. We felt safe and welcomed." - David P., 10/14/2015 (VRBO Review)
"My husband and I and two kids (10 and 12) stayed here for 3 nights before heading north to Alaska. The condo was in the perfect location with and easy walk to Pike Market, Pioneer Square, and the Great Wheel. The kids loved having their own room! There was a Target right around the corner to get groceries and everything we needed. Check in and check out were very easy. Thank you for a great stay!" - Meg B., 08/30/2015 (VRBO Review)
"My wife and I lived in Downtown Seattle for a short time and wanted to take our East Coast grandkids (ages 13 and 14) to show them some of our favorite Seattle attractions.This condo offered the convenience of being centrally located and provided us with easy access to local attractions such Pike Place Market, the Space Needle, and Pioneer Square, as well as quick access to water, rail, and bus transportation. We found the condo clean, well appointed, and with all of the amenities we needed. Debra provided us with outstanding service prior to, during, and after our stay, which helped make our return in Seattle an even more memorable experience!" - John H., 08/10/2015 (VRBO Review)
"This is a perfect location for first time visitors to Seattle. It's within walking distance of several sights/tours. We enjoyed the Space Needle (caught a fly-by of the Blue Angels) and Chihuly/Garden and Glass one day. The next day was The Underground Tour and Ride the Ducks. The tour representatives/guides were not only informative, but enthusiastic and funny. I most highly reccommend Ride the Ducks--***** Excellent tour! The unit was very comfortable for the 4 of us. I especially liked having a twin bed to myself! It was clean and very well appointed! We had a few minor issues, but nothing that warranted immediate attention. I would encourage a guest to call Debra with ANY issues, as she is helpful and prompt. If it's hot, and you want to enjoy the mingle room/pool table in air-conditioned comfort; make sure you call Harbor Steps main desk, because it MUST BE RESERVED. I'll most definitely keep VRBO in mind for our next Girl's Getaway!" - Barbara C., 08/08/2015 (VRBO Review)
"Great stay, our 12 and 15 year old daughters loved this place. We walked to Pike Place and piers and watched Navy and cargo ships from the windows. Debra was very responsive to our requests also." - Chris N., 08/05/2015 (VRBO Review)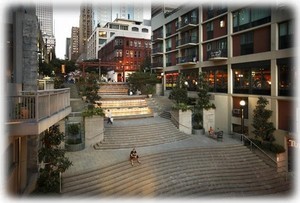 "excellent accommodations in a great location close to all the great Seattle attractions. Would stay there again and highly recommend it to anyone. Easy walking to Pike Place, harbor, Pioneer Square and Space Needle. The condo was well appointed, clean and had great amenities. We stayed with our 4 kids. Used the air bed and still had plenty of room. Felt like we lived there. Only thing better would have been daily housekeeping & a better view." - Heather C., Riverton, UT, 07/29/2015 (VRBO Review)
"Great location the best central to everything!!!!! I would give it five stars but our only hiccups they need larger skillets maybe update there knifes. We ate out most meals. I like to cook but not on vacation but do like to make breakfast, Omletes fritatats, Pancakes, had to struggle. Have to get over myself...plus heat wave while were there, not there fault. Evenings were fine once we cooled it down with fans and we were never there during day. You could truly not have a better location.Pikes Market. Gum wall. Ferrry ride to Bainbridged bike around, Goofy Duck tour, Ferris Wheel, Mount Rainer only two hours away.... get up early. We did Orcas Island before a most see. Moran national park....Sea kayking. Love This area and this apartment for the city." - dawn s., san antonio, 07/17/2015 (VRBO Review)
I think this guest may have not looked under the over in the drawer for more pots and pans. We have a large fry pan, a small fry pan, and even a square griddle for pancakes. Too bad, because sounds like would have been a 5-star rating otherwise! Thanks!!
"We really enjoyed your rental, the location was sooo perfect. there is an excellent coffee shop around the corner called FONTE. We were so close to pike market and restaurants, We will definitely book again. The only problems we encountered were that the bathroom fans are VERY loud,we also could not turn up the heat??? one of our guests was cold all wknd. Another minor issue was that there were no kitchen cloths to wipe down the counters ETC. and the couch was caved in when you sit in the corner? not sure if the springs are broken? Thank-you and hope to book again :)" - carole l., 05/30/2015 (VRBO Review)
We are glad this guest enjoyed their stay. I only wish they would have contacted us as soon as they could not figure out the heat. We would have helped them right away and if it was broken, we'd have put in a maintenance request to have it fixed. This review is the first we've heard of it. There are several heaters in the unit, so I'm not sure why none of them would work, but we'll get it taken care of immediately, of course! This is the first time in over 1000 guests at all our Harbor Steps units that the bathroom fans have been a bother to anyone. They are not silent, but standard bathroom fans, so do not worry. We will check into the couch - first time this has been mentioned to us. Please let us know if you have any questions!! Debra, Picture Properties
"We loved this vacation rental. It was perfect for our family with two teens. It was very conveniently located in walking distance to Pike Place Market and other shopping and the monorail to the Space Needle. We didn't have a car and didn't need it. It was very clean and the furniture and beds were nice and comfortable. We made good use of the pool, hot tub and fitness center too. The rental company was very easy to work with. We'd definitely stay here again when next in town." - Peggy K., Mill Valley, CA, 04/22/2015 (VRBO Review)
"Excellent accommodations in a wonderful location close to all the great Seattle attractions. Would stay there again and highly recommend it to anyone. Easy walking to Pike Place, harbor, Pioneer Square and Space Needle. The condo was well appointed, clean and had great amenities. With a Target within walking distance, we stocked up on food,snacks and drinks for our entire stay. The owner was very helpful, answering all questions. My only suggestions would be better lighting in the kitchen, working kitchen outlets (we were not able to reset the GFI)." - Annamarie H., 04/07/2015 (VRBO Review)
So glad another guest loved staying with Picture Properties at Harbor Steps. There was an issue with the outlets in the kitchen, but we put Harbor Steps maintenance on it to fix it as soon as we found out.
"We spent 3 nights here before embarking on an Alaskan cruise. Perfect spot for anyone. Easy light rail trip from the airport then a few block walk to the property. Everything we needed was easily accessible including renting a car for a afternoon trip to Boeing and renting bikes to tour the city. We even bought lobster at Pikes Market and grilled them on the property one evening! Management very helpful and good to work with." - Anonymous, North Dakota, 07/07/13(HomeAwayConnect Guestbook Entry)
"My husband, daughters and I stayed at this location. We really had a nice time. Everything was so clean, and readily available to us. I love the decor!! We were able to find so much to do within walking distance. The sports court was great...We will definitely come back and stay again." - margie dugan, Renton, 04/17/13(HomeAwayConnect Guestbook Entry)
"This condo is in a fabulous location -- right across the street from the Seattle Art Museum and a very close walk to Pike's Place Market. The condo is very well appointed. It had everything you need, and more. The kitchen was well stocked for any cooking, there were plenty of towels, nice TVs, nice furniture, and it was immaculately clean. It also has a decent view and is in a very nice complex. The amenities of the complex are also great -- including a very nice gym. I would highly recommend this condo to anyone looking for a downtown Seattle experience. You can't beat the location, and this is one of the nicer and well stocked condos I've rented. Also, the owners are amazingly nice and helpful and have left lots of information about Seattle in the condo for the guests' use. Check in and checkout was a breeze. One small note -- the condo is advertised as sleeping 6. The two bedrooms are very nice and super comfortable, but the fifth and sixth person will be using an aero bed on the floor. While the aero bed is very comfortable, there isn't much space for it in the living room. We had to move some furniture to accommodate the aero bed. No big deal, but good to know if you are coming with 6 people. The couch is NOT a sofabed." - Anonymous, 06/11/12(HomeAwayConnect Guestbook Entry)