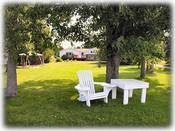 Vacation Rental Photos
Photo 2
Photo 3
Photo 4
Photo 5
Photo 6
Photo 7
Photo 8
Photo 9
Photo 10
Photo 11
Photo 12
Photo 13
Photo 14
Photo 15
Photo 16
Photo 17
Photo 18
Upper James Manner ~ Nestled Among the Trees of Chemong Lake
Canada/Peterborough Vacation Rental
4 bedroom, 2 bath vacation cottage sleeps 6-8
Nightly
Weekly
Monthly
$500
$2,000
$7,500
All rates subject to change without notice. Please confirm with owner.
* Nightly & weekend rentals not available during July & August ( full weeks and more only) unless last minute booking is made during an unbooked week.

* Ask us about our "off season" rates
* Ask us about seniors discounts
* We accept pets!! Ask about details!
* All prices include bed linens and towels

* Upper James Manor is fully equipped...it includes all cookware, flatware, plates, cups , glasses etc...it is fully turnkey!!! Just bring your luggage!